Display Table at the 58th Northeast Fish and Wildlife Conference
Portland, Maine April 21, 2002 - April 24, 2002
Below are some of the images displayed during the conference

Main Screen of RegFinder
From here a user can determine what regulations apply for the
displayed categories by selecting the specific tab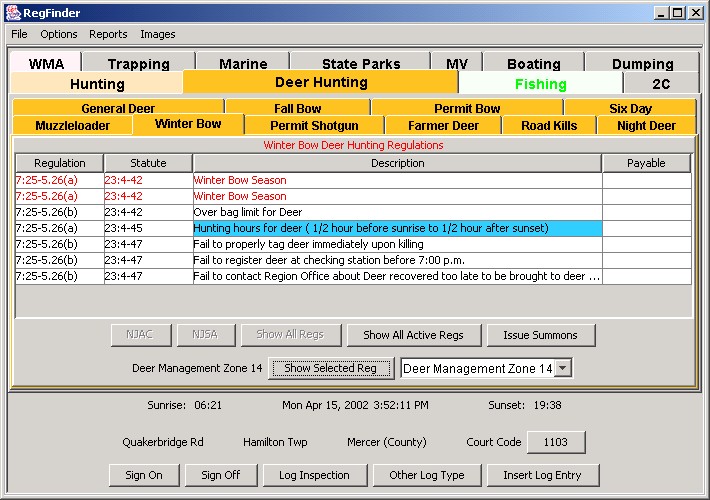 Deer hunting is currently selected, more specifically,
the Winter Bow Season. General regulations are in black,
and specific regulations, those that are limited in time or location,
are in red or green. The red listings are regulations which normally
apply to the current entity, in this case Deer Management Zone 14,
but are out of season. That is to say, on the date shown,
April 15, 2002, the Winter Bow Season was closed. Had this date
been within the scope of the Winter Bow Season, the listing would
be in green.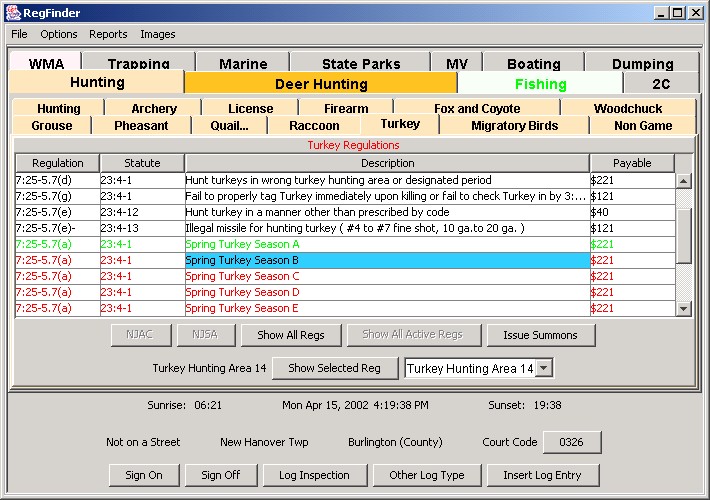 This is a display for Turkey Hunting. On the same day,
April 15, 2002, Spring Turkey Season A was open. The value
in the right column is the cost of a violation of this regulation.
A new feature under construction is the ability to issue a summons
from RegFinder. If the officer pressed the 'Issue Summons' button
now, the screen below would be displayed to gather information
about the violator and violation.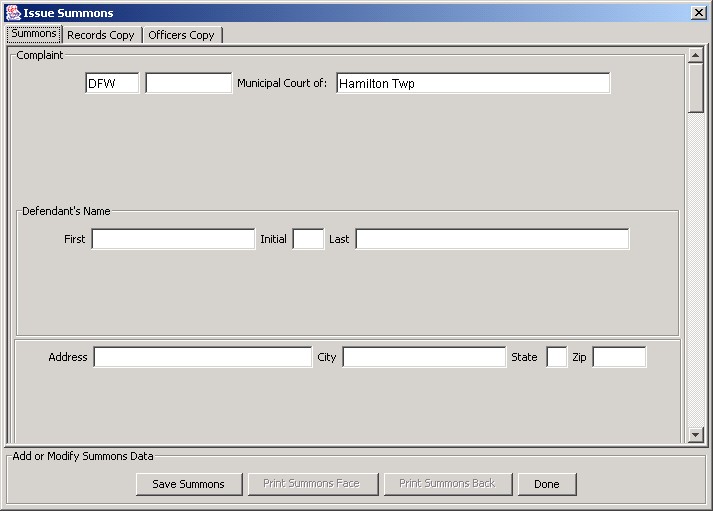 Since RegFinder already knows most of the information needed for the summons, the officer needs only enter the name and address of the violator, the summons number of the summons to be issued, and a description of the location. RegFinder will determine what the cost will be, when the court date is, and the specific statute violated. The officer then drops the card part of the summons in a printer, and prints the summons. Officer notes and other information can be added later to the summons data. The information is now stored in a database which can be brought back to a central system and used to update the summons database for the division. Nothing more needs to be typed in or recopied by anyone. This will save the time of the people who now have to transcribe the information from the summons to a computer so that it can be shared by others.